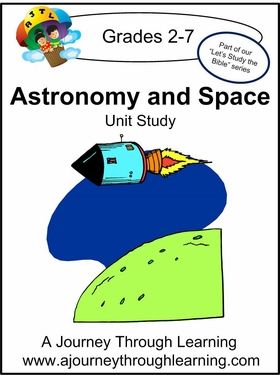 Recently I was asked to review
A Journey Through Learning's
Astronomy and Space Unit Study
. My eldest son and second eldest daughter fell right into the review category. My kids love unit studies because they tend to be short term. I like them because of the quick turnaround allowing my kids to not become too bored in any one subject too quickly!
This particular unit study is a notebook unit. I loved how they laid out the notebook. You use a binder with divider tabs that can be used again and again with whatever unit of their's you're going through.
The unit study comes with everything you need, all the study guides, worksheets, and my favorite-a book log! This is a great way to help kids learn how to write bibliographies and document where they received any additional information they've obtained. For my son, it was the encyclopedia and google.
They also have a book report section for older kids and a narration section for those not quite old enough to write everything out; perfect for my daughter who is still learning to read.

I used this particular study to dig a bit deeper into our science study. My son was prompted by the questions found on the worksheets to investigate different aspects of the study. One such aspect was asteroids. He was asked to choose something he wanted to learn more about. As a typical choice for him, he was trying to take the easy way out, he chose, "Anything not about asteroids." Ha! He chose Mars.
It then had him give a detail or reason why. He chose, "Why is Mars red?" This line of reasoning is great for learning critical thinking skills!


One thing that I loved about this company is their options. You're provided with three different methods of product delivery:
Instant Download (what I received): $13.00
CD: $14.00-Makes it mobile; able to use on any computer.
Printed: $21.00-This way, if you don't have an endless supply of ink, you can receive with the work already done.
This site is great for many different things, I am anxious to do more of their lapbooks. They have many different options there as well; from
Early Learning
to one's that go with other companies to better incorporate your learning. A few of them are
Apologia
,
Geography Matters
, and even
Veggietales movies
!
They have Express Lapbooks which are only $1.00! Great quick units that can be done with one folder and two days of work!
Most lapbooks require two folders and multiple weeks to complete. They also have a plethora of options:
Instant Download
CD
Printed
Assembled
A variety to meet all needs!
I greatly enjoyed their products and can't wait to use more of them! There honestly wasn't anything that I didn't like! It is a great site that was easy to navigate and it provides so many options that I can find something to supplement any subject we're going through!