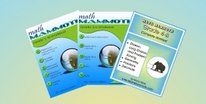 We were recently asked to review
Math Mammoth's Light Blue Series
. For the review, we received a digital download of the product to use. My son, Thomas, was the recipient for the review and we went through the
grade 3 book
.
The pricing for the download version is as follows:
Full set grade 3: $34.00
(part A and B worktexts, answer keys, tests, cumulative reviews, a worksheet maker, and Soft-Pak)
Full set for 3-A: $17.50
(part A worktext, part A answer key, tests, cumulative reviews, a worksheet maker, and Soft-Pak)
Full set for 3-B: $17.50
(part B worktext, part B answer key, tests, cumulative reviews, a worksheet maker, and Soft-Pak)
Supportive materials $8.95
(Answer keys, tests, cumulative reviews, worksheet maker, and Soft-Pak. NO worktexts. Not needed when you purchase the full set.)
**The 7 programs in Soft-Pak (4 math, 1 language arts, 2 testing) offer both on-screen and printable activities in a low-graphic, high content format
You receive the Soft-pak for free when you purchase through the Korgi site. More info is listed on the
main page.
You can also choose to purchase a CD version or the printed version as well.
The main areas that are covered in the Third Grade material are:
* an understanding of multiplication and division
* understanding of fractions
* concepts of area and perimeter
* to fluently add and subtract within 1,000
* to use addition and subtraction in problem solving
From the site:
"Some main features of Math Mammoth complete curriculum (Light Blue series) are:
focuses on understanding of mathematical concepts
uses clear explanations, lots of visual exercises and pattern exercises
mastery oriented: concentrates fairly long on a topic, with fairly few topics per grade
emphasizes mental math and developing number sense
very little teacher preparation needed"
I really like the mastery oriented part of the book as he is better able to grasp a concept before moving on rather than jumping around as he had done in previous studies.
The mental math development was great as I would watch him figure problems out through talking it out rather than the writing down of everything, though there were parts where writing down was more useful for him.
I also really like the 'very little teacher preparation needed' part as with other kids needing more hands on help in other areas, this frees me up to better help them and gives Thomas the freedom he loves with his schoolwork. During this review period, he'd have his math work done before I even came out of my bedroom in the morning!
Here is a screen shot(a poor one at that off of my phone!) of just one of the many colorful pages!
To say that I,and my son, liked it is accurate! It is student lead, meaning that there is no teacher's manual! He reads exactly what he is to do and then does it! If he has questions, he comes to me to ask and that's it! He loved the colorful pages vivid descriptions. His other favorite thing was the 'puzzle corner' located at the end of each lesson. He was able to apply critical thinking skills to solve many types of problems.
My only negative about the downloaded version is that he can't work out the problems on the page, unless you want to print out the pages! To me, I'd rather buy the printed book version and not use up all my ink on printing out near to three hundred pages for the two books. :)
That being said, I think that this curriculum will be seeing itself into our schoolroom this fall for Thomas as he really liked the ease at which he was able to learn and how it isn't 'dry'. Also, it's very cost effective for my house!
To see other reviews on this product and others that they offer,
go here!