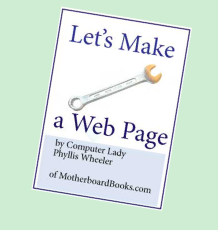 I was recently asked to review
Let's Make a Web Page by Phyllis Wheeler of Motherboardbooks.com
. This is a little e-book aimed at 8-12 year old children who are interested in developing their own web page. It's features, as listed on the site, include:
"- It's a 60-page e-book intended as a short-term homeschool project for kids 8 and up.
- Kids younger than 10 will need an adult alongside. No expertise required.
- Parents download a free trial version of CoffeeCup software.
- Software is compatible with Windows XP, Vista, and later (not Mac).
- Instructions for the parent include Internet safety and uploading to the Internet.
- Tone encourages experimenting and creativity.
Price: $19.95"
My son was the lucky reviewer in this case as he is 9. He had a lot of fun playing around with the Visual Site Designer that we had to download from CoffeeCup. He is having so much fun designing his background and fonts and such that he hasn't finished his actual page at this point. Personally, I don't think he'll finish as he is enjoying the process more than the finished product.
Personally, I didn't really care for the process as once he would try to advance to the next step, he'd have difficulty reopening the work he'd done. I'm not sure if that is because of the software we downloaded or the programs on the computer, but the e-book unfortunately isn't a manual for those of us who aren't quite computer savvy (Me that is!) I will agree with them and state that it's easier for the kids to navigate and figure things out than us who are slightly older, me, and have difficulty understanding tech terms.
The e-book itself is well written. It lays out every step very well for the child to create the page by showing screen shots so they know they're in the right place in the directions. That was really helpful when he was working through his page.
Disadvantages to me is that the software we need to download to use is only a free trial and once the time limit is up, you can't go and make changes to your web page, unless you purchase it. The other is that I feel $19.95 for an e-book is on the high end for what it offers.
Now, just because I had difficulty navigating, don't let that put you off from trying it out for yourself!
Click here for other reviews
to make a well-rounded and informed decision as I'm only one voice!