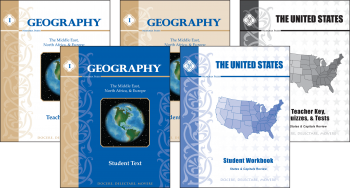 I was recently asked to review Geography Workbooks from
Memoria Press
for the crew. We reviewed
Geography I
, which covers the Middle East, North Africa, and Europe. Also included is a review text for the United States, the material you would have covered the previous year in their curriculum line-up. This set is their fourth grade unit and my son, who will be entering fourth grade this fall, was the lucky recipient. I see a pattern here! He gets to try out a ton of new material through this!
The complete set, as pictured above, includes the student text, workbook, teacher's guide, review worktext, and review test book for $48.00. I found this to be a great value as the review text alone was more than a review in the general sense. To me, I found it to be more like a complete unit study. The maps were well done, easy to navigate and very thorough.
The actual text to review, the Geography I, was excellent! You learned of 2-3 countries per week. The student text is well written. With each new area you learn, say Lebanon, it'll have it's ancient name, Phoenicia, associated with it. It has a list of "fast facts" listing the more important details: major cities, language, population, climate, etc. It gives a history lesson with each country as well as 'tour' of it as it looks today. The worktext is nice in that it causes the student to learn how to use an atlas. They learn how to read a map in order to find cities, bodies of water, land masses and the like. I love how it doesn't just give them everything, that they have to search it out for themselves.
I also like the price, it costs just under $10 per book, not bad for all that you receive. And with only two of the five being consumable, you recoup your cost over time.
Another thing that I liked was that Thomas could do it, for the most part, independently. Searching out cities on the map or figuring out whether boarders were land/man made we'd work out together. It's fun seeing how independent he is getting with his schooling and curriculum such as this helps spur it further!
I'm still debating on my school curriculum for the fall, but I will say that this is on the 'maybe list' as one my choices. It's a great curriculum and they have a great array to choose from! This is only the geography portion to their
full curriculum
for fourth grade. All in all, I really liked this material.