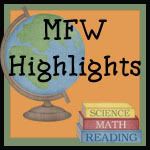 This week we learned of Noah and the Great Flood. The magnitude of the destruction, water rising 15 cubits higher than the mountains! Of God's protection of Noah's family and all the animals as they resided in an ark for just over a year.
We unveiled our mummified apple:
The one on the left is the mummified and the one on the right is the control.
We also learned about the cell structure. The kids were amazed that what they drew were simplified versions!
Here the two are going over their review of how early civilizations dealt in the sciences; mummification, dissection, observation, dietary law, etc.
I also captured a few pictures of my two oldest girls enjoying a spa day together while their little sisters napped:
They'll love me later for capturing this memory, right?
Well, that's a little peak into what they did this last week. Hope you enjoyed reading!