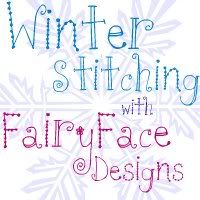 Well, Sarah has started up her winter list challenge. For about the next four months, a bunch of us will be linking up with
Fairy Face Designs
and checking off our list of to-do's. So, here is my list:
1. Goodies for my ALFALC October Swap
2. Pretty little Purse Swap 3
3. Project Me- need to sandwich and quilt.
4. A Zig A Zag project
5. Lone Star project
6. Pumpkin pincushions
7. Under the Sea Quilt
8. Sunburst Quilt
9. 12 Days of Christmas Sampler QAL
10. Scarves for Red Heart's Special Olympics challenge.
11. A Virtuous Woman cross-stitch sampler
12. Wall hanging for my Mom ( I know Mom, it's been a long time coming!)
13. First three months of the Moody Blues Bee (Jan, Feb, March)
14. 3x6 Bee- Am a Queen Bee this quarter. Still in the sign up stage.
15. Cloaks for the kids (I've had the material for a year, sigh.)
16. Across the Sea Quilt
17. FLMQG Solids quilt charity bee challenge.
Well, I think that is quite the list. Phew, I'm beginning to realize how busy I am. Remember, this will be on top of being a homeschooling mama to six wonderful children!
So, if you would like to join in on the fun, be sure to head on over to
Sarah's blog
and link up!